Interested in reading a good book? Join us at the SEAPAX book club. Check out the next book, when and where we meet on this page: 
---
2022 SEAPAX BOOK CLUB

Meeting time:  3PM - 5PM 
Dates:   February 13, April 10, June 12, August 14, and October 9.
Questions or to join, contact: SEAPAXbooks1@gmail.com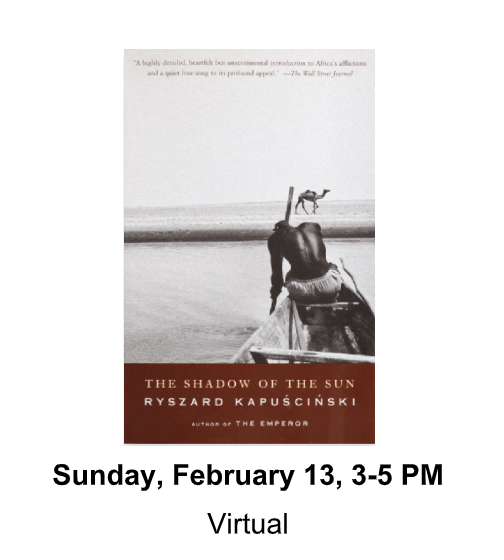 Sunday, February 13, 3-5 PM
Virtual
The Shadow of the Sun
by Ryszard Kapuściński, Klara Glowczewska (Translator) (non-fiction)
 In 1957, Ryszard Kapuscinski arrived in Africa to witness the beginning of the end of colonial rule as the first African correspondent of Poland's state newspaper. From the early days of independence in Ghana to the ongoing ethnic genocide in Rwanda, Kapuscinski has crisscrossed vast distances pursuing the swift, and often violent, events that followed liberation. Kapuscinski hitchhikes with caravans, wanders the Sahara with nomads, and lives in the poverty-stricken slums of Nigeria. He wrestles a king cobra to the death and suffers through a bout of malaria. What emerges is an extraordinary depiction of Africa--not as a group of nations or geographic locations--but as a vibrant and frequently joyous montage of peoples, cultures, and encounters. Kapuscinski's trenchant observations, wry analysis and overwhelming humanity paint a remarkable portrait of the continent and its people. His unorthodox approach and profound respect for the people he meets challenge conventional understandings of the modern problems faced by Africa today.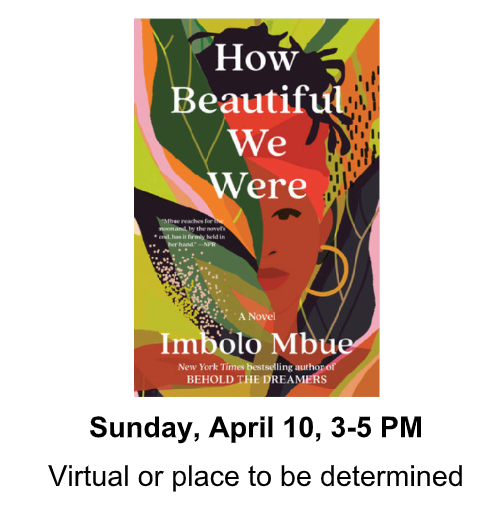 Sunday, April 10, 3-5 PM
Virtual or place to be determined
How Beautiful We Were: A Novel 
by Imbolo Mbue (fiction)
We should have known the end was near. So begins Imbolo Mbue's powerful second novel, How Beautiful We Were. Set in the fictional African village of Kosawa, it tells of a people living in fear amid environmental degradation wrought by an American oil company. Pipeline spills have rendered farmlands infertile. Children are dying from drinking toxic water. Promises of cleanup and financial reparations to the villagers are made—and ignored. The country's government, led by a brazen dictator, exists to serve its own interests. Left with few choices, the people of Kosawa decide to fight back. Their struggle will last for decades and come at a steep price.
 Told from the perspective of a generation of children and the family of a girl named Thula who grows up to become a revolutionary, How Beautiful We Were is a masterful exploration of what happens when the reckless drive for profit, coupled with the ghost of colonialism, comes up against one community's determination to hold on to its ancestral land and a young woman's willingness to sacrifice everything for the sake of her people's freedom.
Sunday, June 12, 3-5 PM
Virtual or place to be determined
Last Best Hope: America in Crisis and Renewal
by George Packer (non-fiction)
George Packer diagnoses America's descent into a failed state, and envisions a path toward overcoming our injustices, paralyses, and divides
In the year 2020, Americans suffered one rude blow after another to their health, livelihoods, and collective self-esteem. A ruthless pandemic, an inept and malign government response, polarizing protests, and an election marred by conspiracy theories left many citizens in despair about their country and its democratic experiment. With pitiless precision, the year exposed the nation's underlying conditions―discredited elites, weakened institutions, blatant inequalities―and how difficult they are to remedy.
In Last Best Hope, George Packer traces the shocks back to their sources. He explores the four narratives that now dominate American life: Free America, which imagines a nation of separate individuals and serves the interests of corporations and the wealthy; Smart America, the world view of Silicon Valley and the professional elite; Real America, the white Christian nationalism of the heartland; and Just America, which sees citizens as members of identity groups that inflict or suffer oppression.
In lively and biting prose, Packer shows that none of these narratives can sustain a democracy. To point a more hopeful way forward, he looks for a common American identity and finds it in the passion for equality―the "hidden code"―that Americans of diverse persuasions have held for centuries. Today, we are challenged again to fight for equality and renew what Alexis de Tocqueville called "the art" of self-government. In its strong voice and trenchant analysis, Last Best Hope is an essential contribution to the literature of national renewal.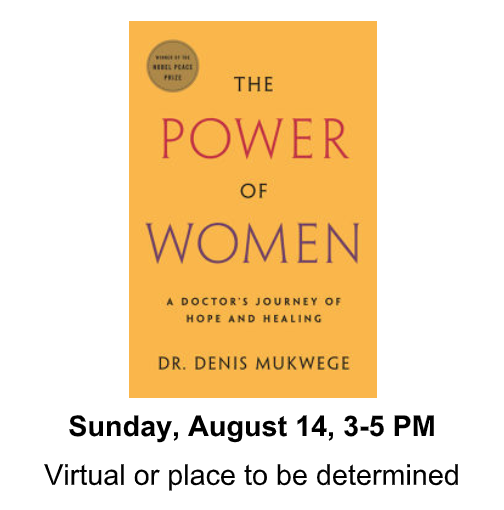 Sunday, August 14, 3-5 PM
Virtual or place to be determined
The Power of Women: A Doctor's Journey of Hope and Healing
by Denis Mukwege (non-fiction)
From Nobel laureate, world-renowned doctor, and noted human rights activist Dr. Denis Mukwege comes an inspiring clarion call-to-action to confront the scourge of sexual violence and better learn from women's resilience, strength, and power.
At the heart of Dr. Mukwege's message will be the voices of the many women he has worked with over the years. Dr. Mukwege will use individual cases to reassure all survivors that, even if their psychological wounds may never fully heal, they can recover and thrive with the right care and support.
Dr. Mukwege's dramatic personal story is interwoven throughout as he explores the bigger issues that have become a focus of his advocacy. He will seek to explain why sexual violence is so often overlooked during war, and how governments need to recognize and compensate victims. He will also stress the importance of breaking down the taboos surrounding assault, and the necessity of building a system that supports women who come forward.
His words advocate for saying 'no' to indifference and he asks readers to reckon with the West's involvement in perpetuating sexual violence in places like the Democratic Republic of Congo, and to confront the abuse taking place in their own communities.
Sexual violence does not occur in a vacuum. The conflict in the Democratic Republic of Congo, which has raged for over 20 years and has claimed an estimated 5 million lives, is inseparable from Western patriarchy and economic colonization. And this cycle of violence and spoils is not limited to Congo. Dr. Mukwege's work has led him to South Korea, Latin America, the Middle East, and elsewhere in Africa, where he has found striking similarities in women's testimonies.
The truth is, through the intricate ties of the global economy, we are all implicated in violence against women – whether it occurs amidst the fighting in the Democratic Republic of Congo or on college campuses in the West. And Dr. Mukwege's writing will address men as well, encouraging and guiding them to become allies in the fight against sexual abuse, in war and in peace.
Building more inclusive, gender-balanced societies will require developing what he calls "positive masculinity" – a systemic change in male behavior and attitudes towards women. Dr. Mukwege hopes to inspire other men to speak out and join the struggle, rather than leaving women to fight the battle alone. He will also make the case, drawing from his experience and a wealth of research on the topic, that when women are involved as economic and political decision makers, all of society benefits.
ONE OF THE FOLLOWING TWO WILL BE SELECTED BASED ON A VOTE AT THE 2/22 MEETING
Sunday, October 9, 3-5 PM
Virtual or place to be determined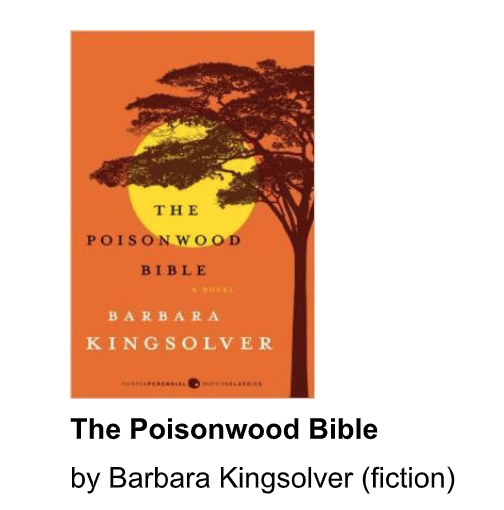 The Poisonwood Bible
by Barbara Kingsolver (fiction)
The Poisonwood Bible is a story told by the wife and four daughters of Nathan Price, a fierce, evangelical Baptist who takes his family and mission to the Belgian Congo in 1959. They carry with them everything they believe they will need from home, but soon find that all of it -- from garden seeds to Scripture -- is calamitously transformed on African soil. What follows is a suspenseful epic of one family's tragic undoing and remarkable reconstruction over the course of three decades in postcolonial Africa.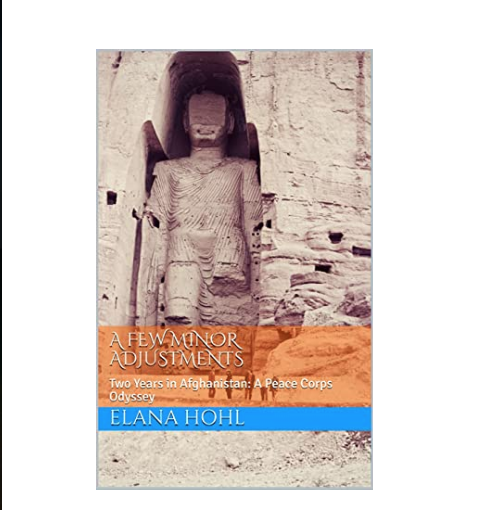 A Few Minor Adjustments: Two Years in Afghanistan: A Peace Corps Odyssey
by Elana Hohl (non-fiction)
In 1971, before Al Qaeda and the Taliban, an idealistic young American couple just out of college spent two years teaching, traveling, and experiencing the culture of Afghanistan. As Peace Corps volunteers, they learned as much as they taught during their time in the country and changed the trajectory of their lives. This is their story from that historic period as gleaned from memories, conversations, and letters home. Their story will transport the reader to a time before Afghanistan was war torn, before there was daily news from the country's enigmatic mountains, deserts, and villages, before twenty years of non-stop fighting. Peace Corps assigned the author and her husband to teach in a boys' UN-funded technical boarding school. Elana was the only woman on the staff and the only non-family female most of the provincial boys had ever encountered. Her observations and letters home vividly portray her adjustment to the country's culture and people and how she grew to love this ancient country and her students. Proceeds from the sale of this book will support initiatives that benefit the women and children of Afghanistan. These initiatives have been identified through the Returned Peace Corps Volunteers Friends of Afghanistan organization. (http://AfghanConnections.org)
Questions, contact: SEAPAXbooks1@gmail.com